Fearless Award round 20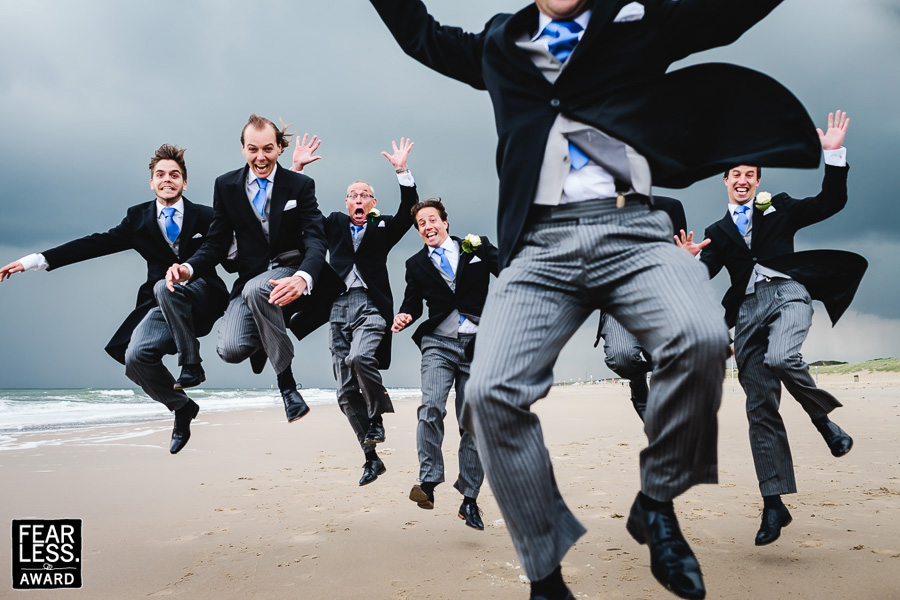 WOOHOOO! Nadat ik de afgelopen periode een nominatie ontving voor de Bruidsfoto Award en mijn eerste Fearless Award won heb ik nog een Fearless Award gewonnen! Dinsdagmiddag werden de winnende foto's van de eerste collectie van 2014 bekend gemaakt en ik vind het een eer dat een foto van mij bij de winnaars zit. Ik wil je uitnodigen om de collectie winnende foto's via deze link door te kijken: https://www.fearlessphotographers.com/best-wedding-photography-galleries.cfm. Er zit echt ontzettend goed werk bij.
Één van mijn doelen voor 2014 was om nog een Fearless Award te winnen. Fearless heeft voor mij waarde omdat het niveau zo hoog is dat het me pusht om selectief te zijn en echt het allerbeste in te sturen. Een plaatje van een mooie bruid of toffe styling is niet genoeg: een foto moet méér hebben. Het moet iets unieks hebben, het moment moet goed zijn, de foto moet technisch kloppen en het moet iets met je gevoel doen. Je ontroeren, verbazen, aan het lachen maken of desnoods verontwaardigen. Het is heel tof dat het niveau van bruidsfotografie door dit soort wedstrijden alleen maar hoger word. En stiekem wilde ik ook aan mezelf bewijzen dat het geen éénmalig gelukje was, maar dat ik het nog een keer kan.
Maar hoewel het winnen van een award heel tof is, is dat niet waar het om draait. Dat een bruidspaar heel blij is met hun reportage en zo nog jarenlang een herinnering heeft aan hun bijzondere dag is de beste waardering die ik kan krijgen. Dat wil ik me dan vooral ook voornemen van dit jaar: dat het niet draait om awards, supervette plaatjes voor m'n portfolio of alle poeha om fotografie heen, maar om het zo mooi en oprecht mogelijk vastleggen van een unieke dag en de liefde tussen 2 mensen. Dat de foto's van jouw bruiloft niet slechts aan je verwachtingen voldoen, maar beelden zijn die je verbazen en beter zijn dan je zelf had kunnen bedenken.
Deze foto is ook genomineerd voor de Bruidsfotoaward! Je kunt hier stemmen t/m 15 mei: https://www.bruidenbruidegom.nl/nl/bruidsfotoaward/
————————————————
WOOHOOO ! After receiving a nomination for the Bruidsfotoaward and winning my first Fearless Award, I have won another Fearless Award won! Yesterday afternoon , the winning photos from the first collection of 2014 were announced , and I am honored that a picture mad eby me is among the winners . I want to invite you to view the winning photos from this collection : https://www.fearlessphotographers.com/best-wedding-photography-galleries.cfm . It contains truly amazing work.
One of my goals for 2014 was to win a Fearless Award. Fearless has value for me because the level is so high that it pushes me to be selective, critique my work and really only send the best work I have. A picture of a beautiful bride, a great dress or cool styling is not enough: a photo should have more. It must have something unique, there had to be a 'moment', the picture should be technically correct and it has to do something with your feelings. A great photo should move or surprise you, make you laugh or if necessary create resentments. It's very cool that the level of wedding photography is only getting higher and higher because of competitions like Fearless. And secretly I also wanted to prove to myself that it wasn't some sort of one-time luck that I won, but that I could do it again .
But despite winning an award is very cool, it is not what it's about. The best appreciation I can get is when a couple is super happy with their wedding coverage and they have beautifull images to look back on their wedding day for many years. I really want to remember myself this year: it's not about awards , supercool images for my portfolio or all the other fuss around wedding photography. The goal is to take photos that tell the story of your wedding in the most beautifull and honest way and capture the love. That the pictures of your wedding not only meet your expectations , but amaze you and are better than you could have imagined yourselves.
This photo is also nominated for the Bruidsfotoaward! You can vote here untill may 15th: https://www.bruidenbruidegom.nl/nl/bruidsfotoaward/